Momoe came to Apple Wood a sickly and skinny sugar glider. He was found as the sole survivor of a group of gliders left to fend for themselves. Momoe has really done well with us, thanks in large part to a good diet and clean environment.

Sometime during the day on 5/16/11, Momoe likely fell from a hammock at the top of his cage. He is currently in ICU at Alameda East being treated for head trauma. They have him in an oxygen enriched enclosure that is being warmed. His blood sugar is low and he's having trouble keeping his temperature normal.

Please keep Momoe in your thoughts. He will need them to get through this. If you are able to help out, we would greatly appreciate it. The bill so far has been estimated at $700 for the low end. All donations are tax deductible and will go directly to cover the cost of his treatment. Please visit our ChipIn to donate to Momoe's Vet care.

Thank you for your support and love for the animals in our care!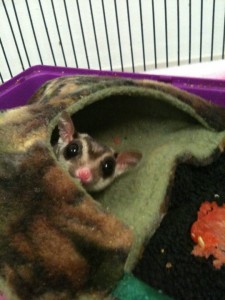 Update on Momoe

On the evening of 5/17/11 we decided to let Momoe go to the rainbow bridge. He was having seizures and had stopped eating while in ICU. He had fought as much as he could but was unable to come back to where he was before his fall. We will miss him tremendously! Sleep well little one. XOXO